For me, the perfect cookie is slightly crispy on the outside yet soft and chewy in the centre, sweet with a slight hint of saltiness, and of course lots of chocolatey chunks. I have made many cookies during my time as a baker and tried various recipes, all producing a slightly different result. One of my favourites happened to be from a recipe book I got with an issue of the BBC Good Food Magazine.. sometimes the best recipes come from the most unexpected places!
I have done much research into what makes the perfect cookie and today I am sharing with you a vegan version. I have developed this recipe so that it is super simple with no fancy or hard to find ingredients- everything you can pick up at your local shop.. except for perhaps flour, which seems to be in high demand at the moment!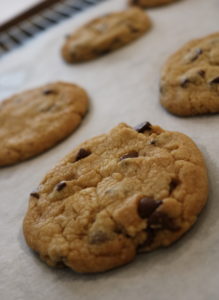 Here are a few tips for making the perfect soft and chewy chocolate chip cookies:
1. Slightly melt your butter or fat, but make sure it isn't too warm or the sugar will start to dissolve in it before the cookies hit the oven, making them spread too thin!
2. Use light brown sugar over caster (or white) sugar. This is much softer and moister and will help give the cookies a rich golden brown colour.
3. Use self raising flour or add a raising agent, to give the cookies an extra lift and prevent them from being too flat.
4. Substitute 2 tbsp of the flour for cornflour (or cornstarch) which will prevent the cookies spreading too much and give them a softer texture.
5. Add a pinch of bicarbonate of soda as this gives rise to a slightly crispier cookie, and increases the rate of browning as water evaporates more quickly. Be careful not to add too much or your cookies will have a salty/chemical taste!
6. Don't over mix your flour. Just like with cakes, over mixing will result in a tough cookie.. and nobody wants to be confronted with a tough cookie right!?
7. Add a little golden syrup or maple syrup, vanilla extract, and salt for extra flavour.
8. Throw in LOTS of chocolate chips.. that one was obvious right?!
Happy baking!